How to Create a Winter Scene Portrait
Transform your portraits into a Winter Wonderland spectacle – ideal for festive gifts and holiday greeting cards

With winter on the horizon and the cold weather starting to descend it's natural that we'd rather stay indoors than face the frosty air. So, instead of finishing off the last of the mince pies or desperately seeking the missing piece of your Christmas jigsaw, why not bring in some creativity and create a winter scene of your own from the comfort of your computer chair?
Join us on our arctic adventure to create bbbrrrrrrilllliant backgrounds to fit any winter portrait that you've taken. We'll look at creating frosty patterns, using custom made brushes and how to make realistic snow for your winter wonderland!
You don't need to have tonnes of experience with Photoshop to follow along with this tutorial. Our step-by-step guide and video will make it nice and easy for anyone to follow, whether you're a beginner or a bit of an editing wizard!
To begin with, open a new landscape document, don't worry what size it is for now – we're just practising. But if you're going to print out your masterpiece make sure you type in the dimensions you'll need.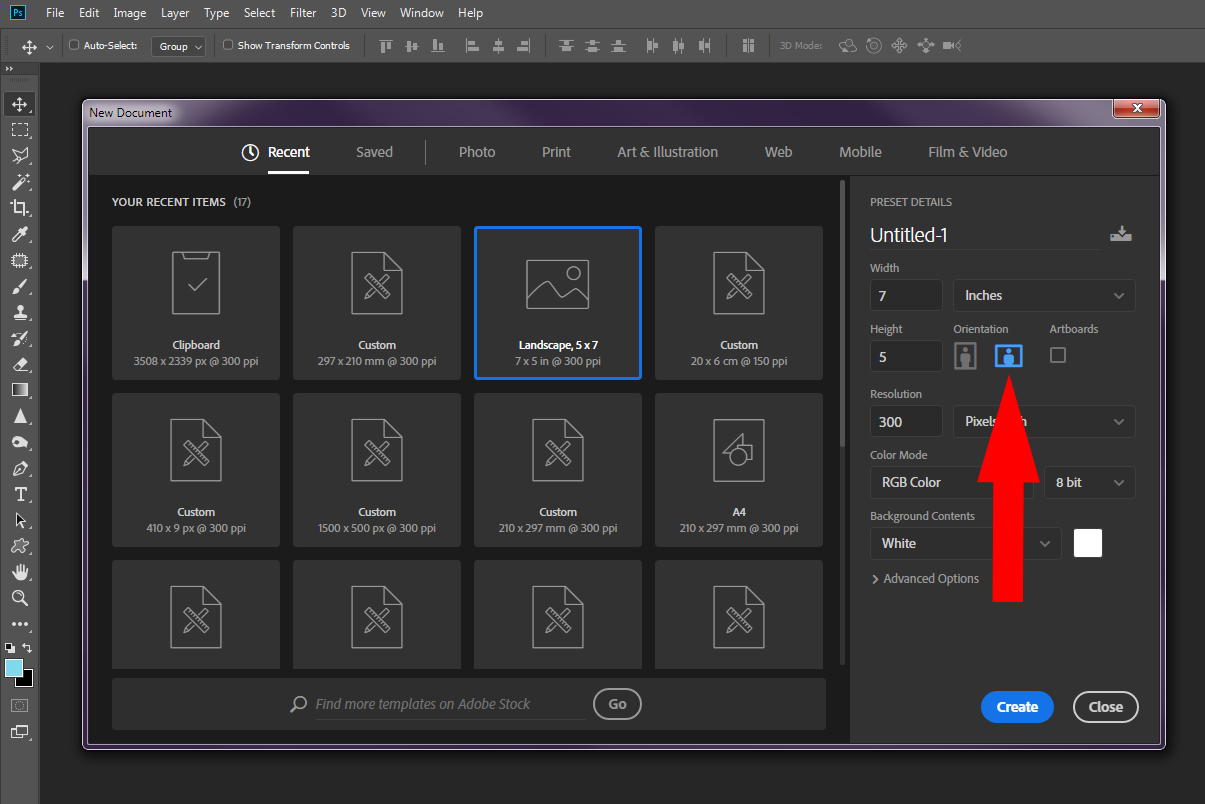 Secondly, choose a nice frosty looking winter colour to act as your background, a light blue perhaps, but try not to go too light as it will spoil the next step. If you want to add a nice depth to the background, try using a linear gradient background with two different shades of light blue.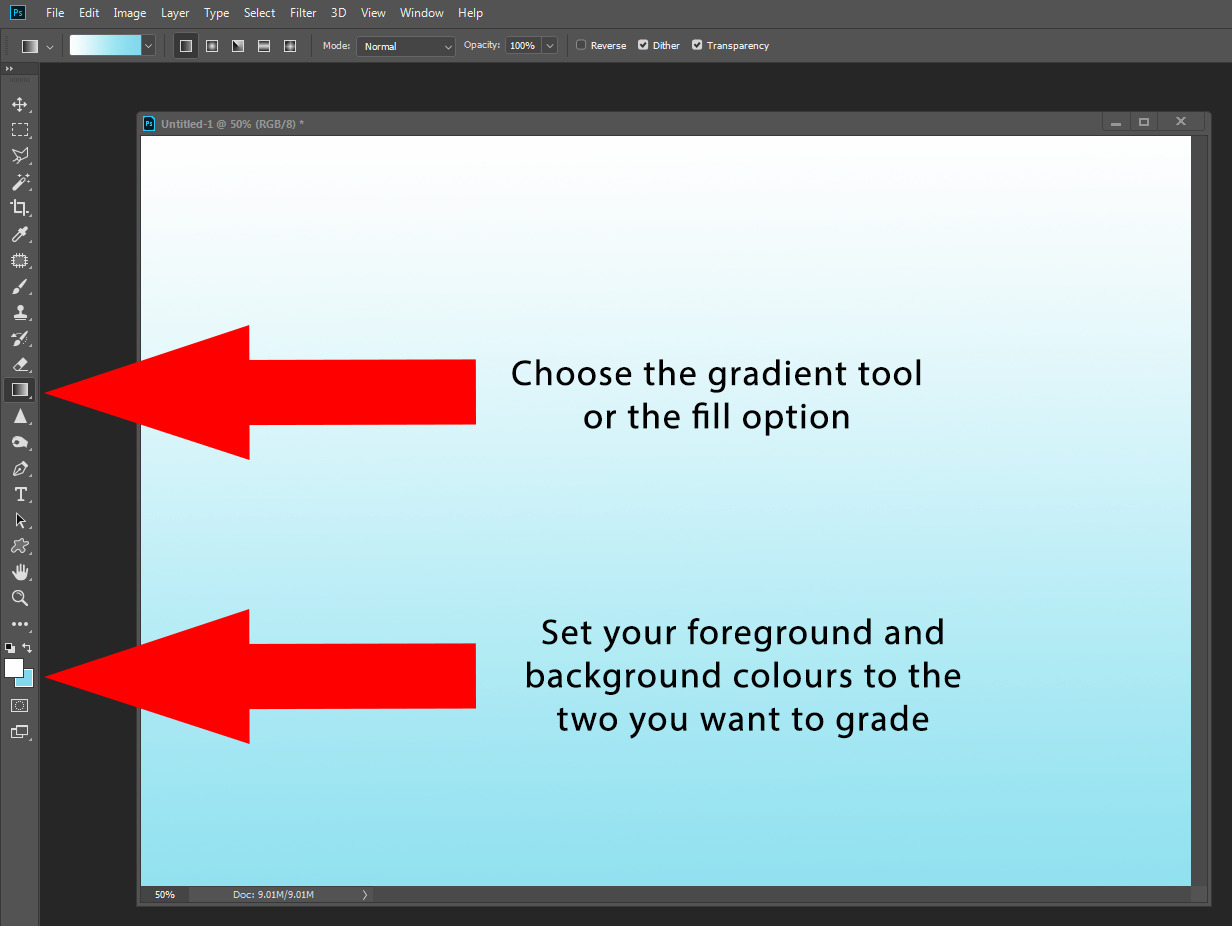 Next, we need to create a new layer from our layers panel, press the icon at the bottom that looks like a page being turned. This new layer will appear above our background.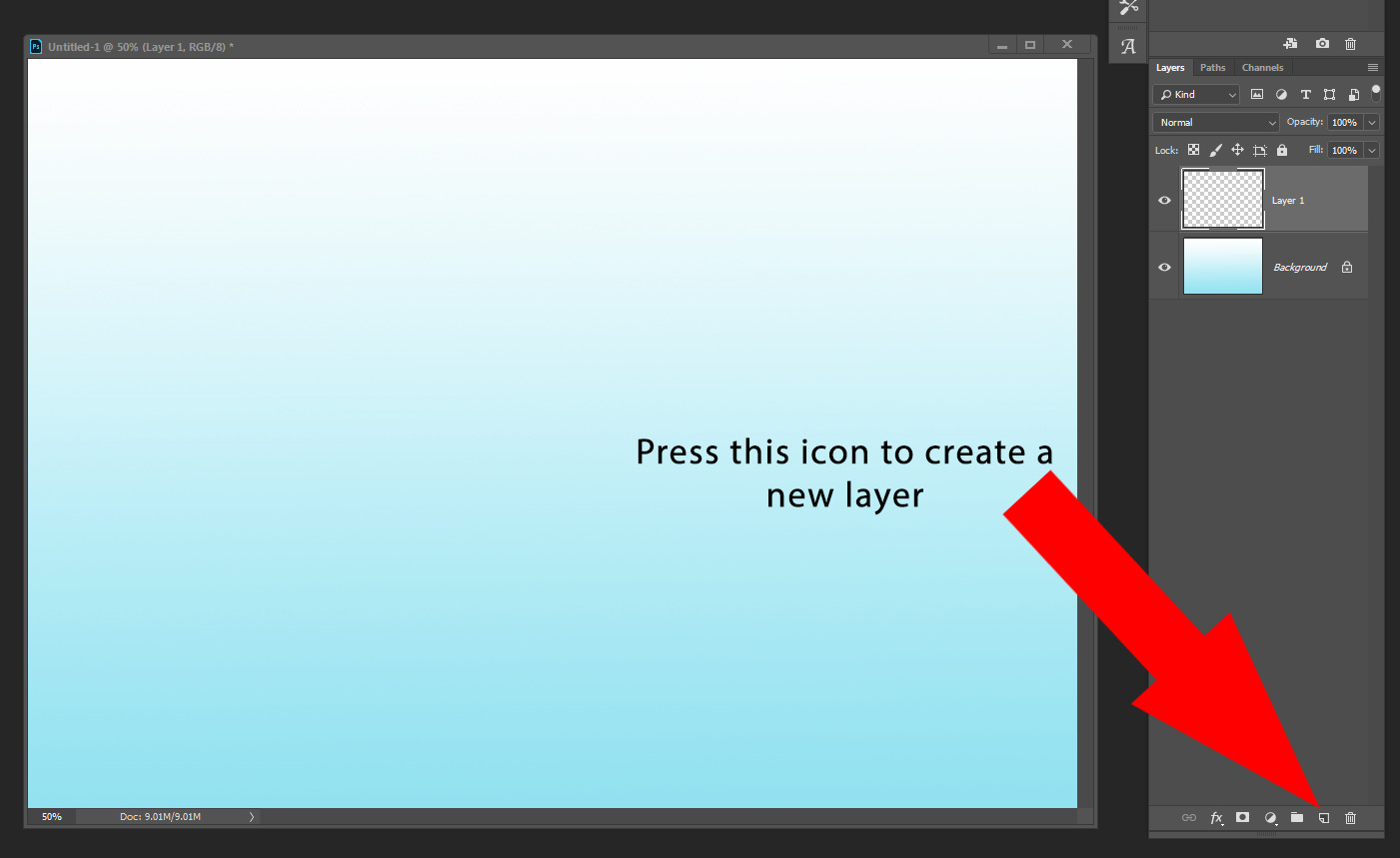 Next hop over to the Custom Shape tool, this is normally hidden within the Line tool option, but if you press 'U' on your keyboard, your computer will jump to it straight away. Hold down the Line tool icon to see all the options in the sub-menu and choose Custom Shape.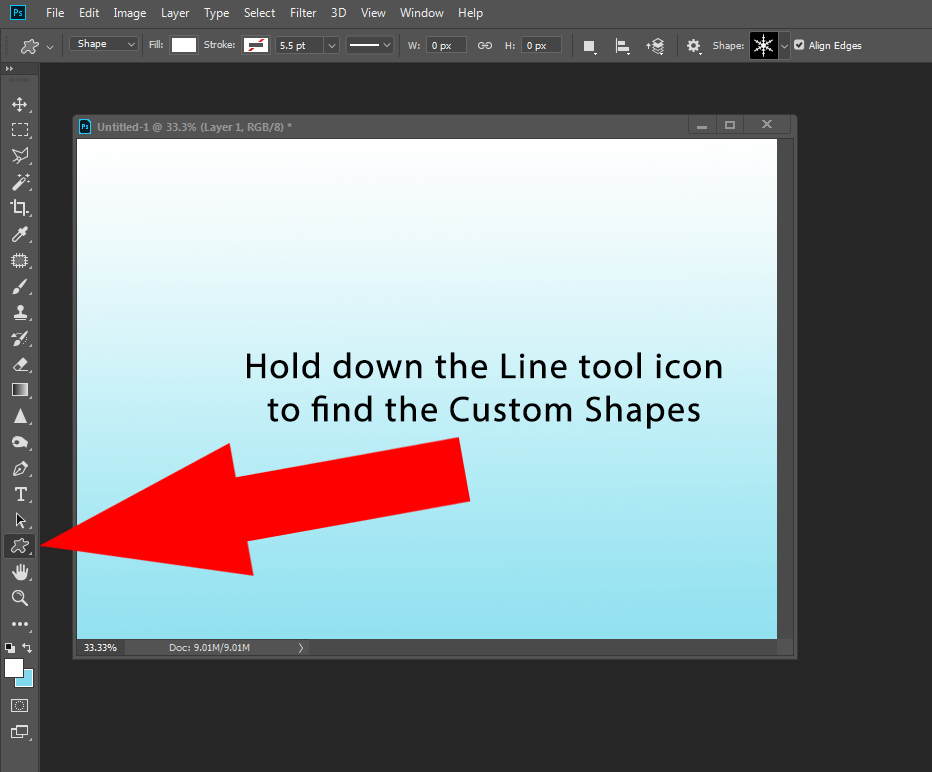 On your top toolbar, you'll find the editing options for your custom shape. Make sure your Fill and Stroke options are both set to a colour that contrasts (white or blue would be quite wintery) your background and then choose from the shape menu, a winter snowflake design. There are a few so it's up to you which one you pick.

With the Shift button held down, draw your snowflake shape on to your document, get it to the size you want before letting go. You can still move it around and re-size it afterward if you need. Position the snowflake in the top left-hand corner of your document.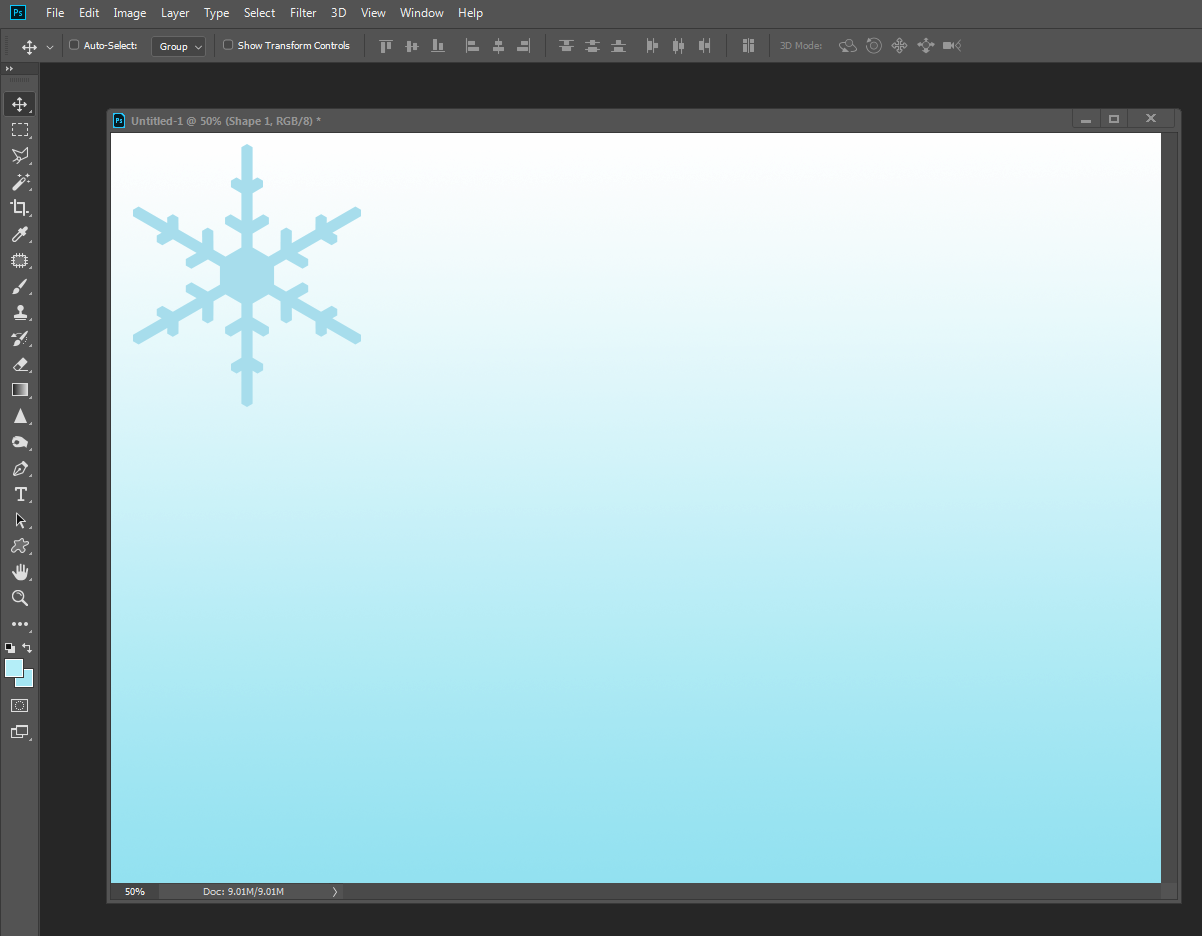 Copy and Paste the snowflake to make another and build up a line of shapes. You can continue to copy them all over the document or have a few rows of different types of snowflakes, or just lay them out in a completely random pattern.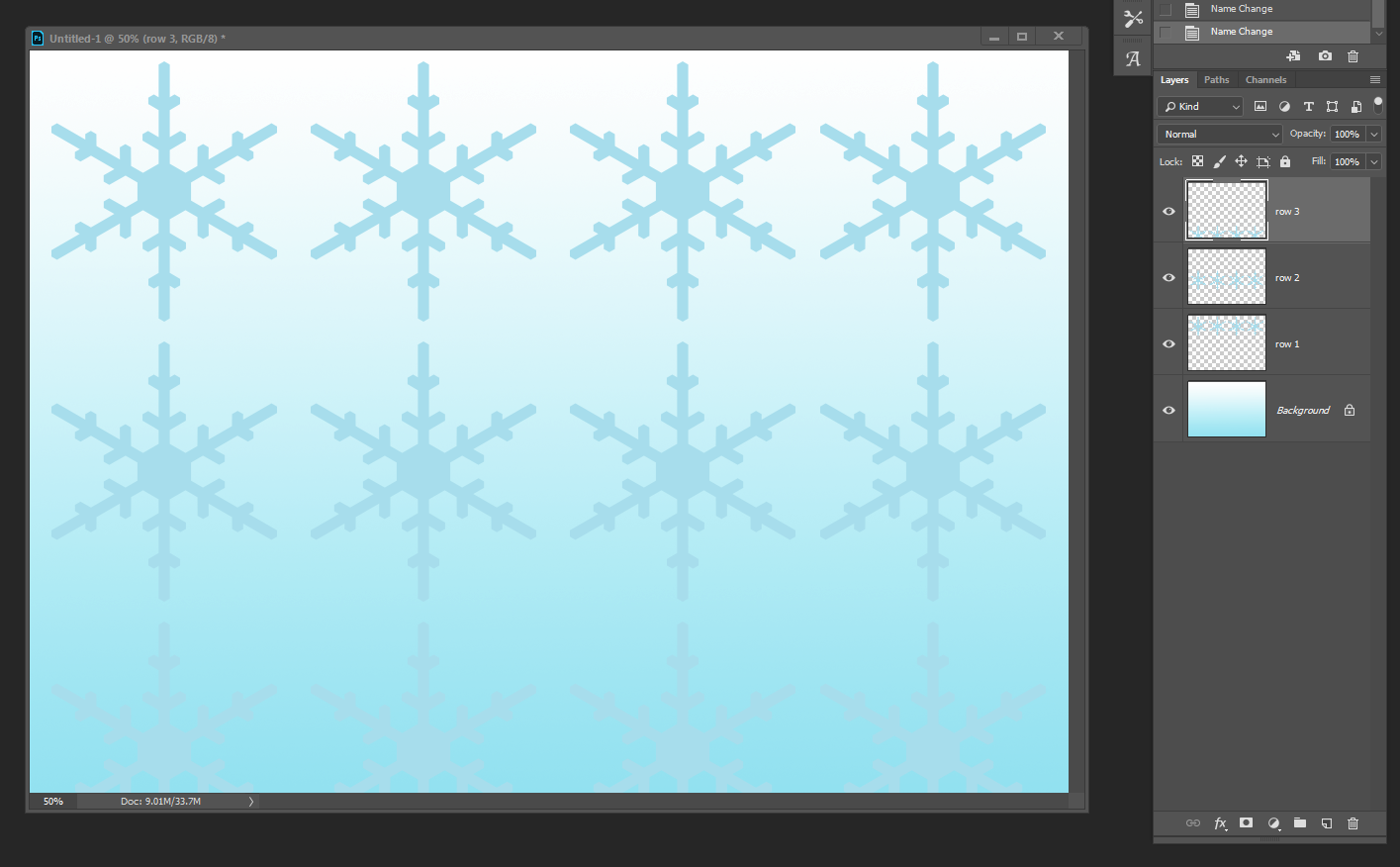 Now our background is flooded with snowflakes, it's time to bring in our main subject – this may be a family portrait, the kids, or just your furry friend! If they're dressed in winter outfits even better. Copy and Paste them on to your winter scene and it's time to get intricate as we need to remove the surplus background. Remember module 1 on the iPhotoshop Course (Masking Masterclass) this is a perfect tutorial to help you get rid of those pesky backgrounds.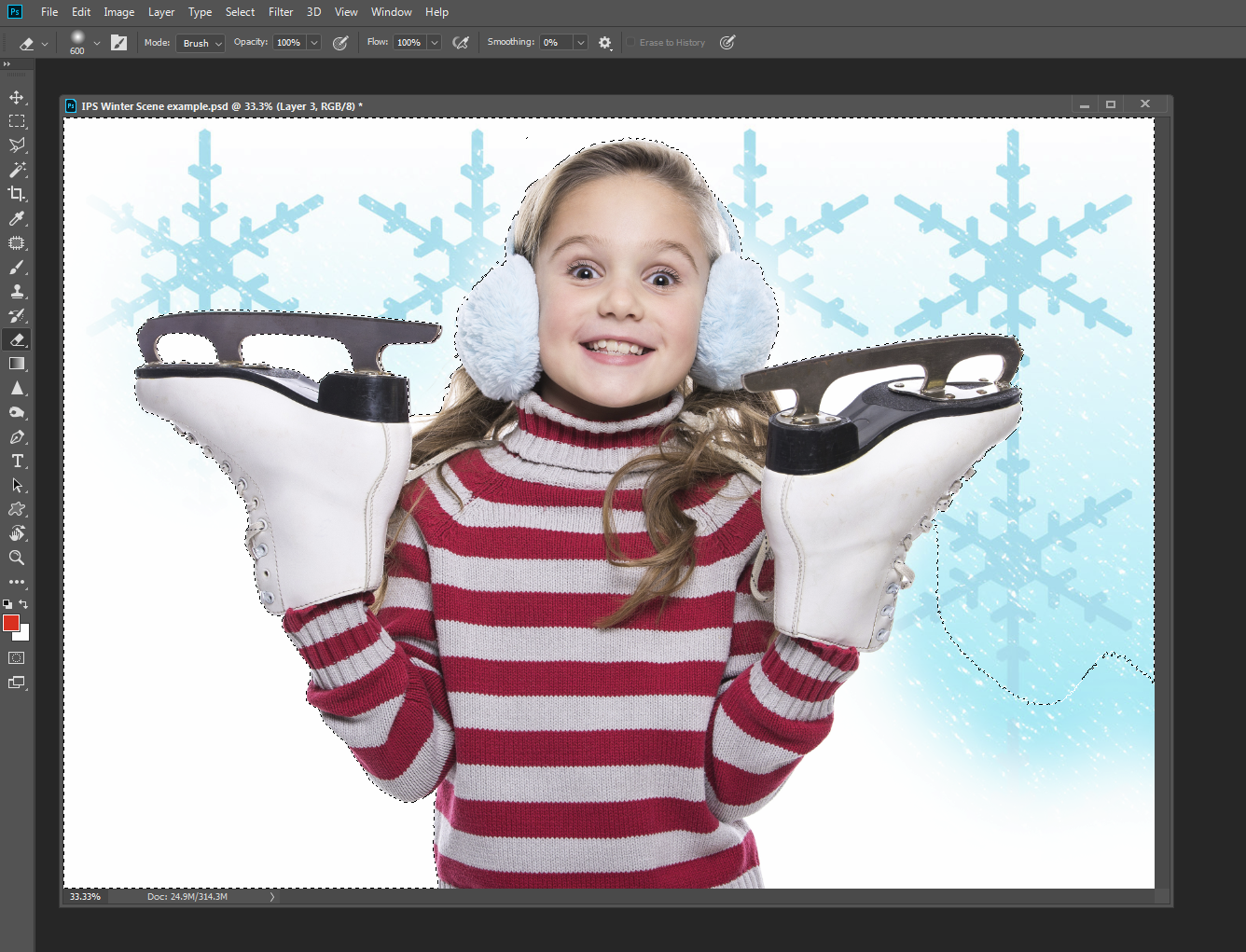 Once you've got your subject isolated then it's time to polish off our winter wonderland with a sprinkling of snow. Add a new layer above your picture and fill it with white by going to Edit > Fill > White.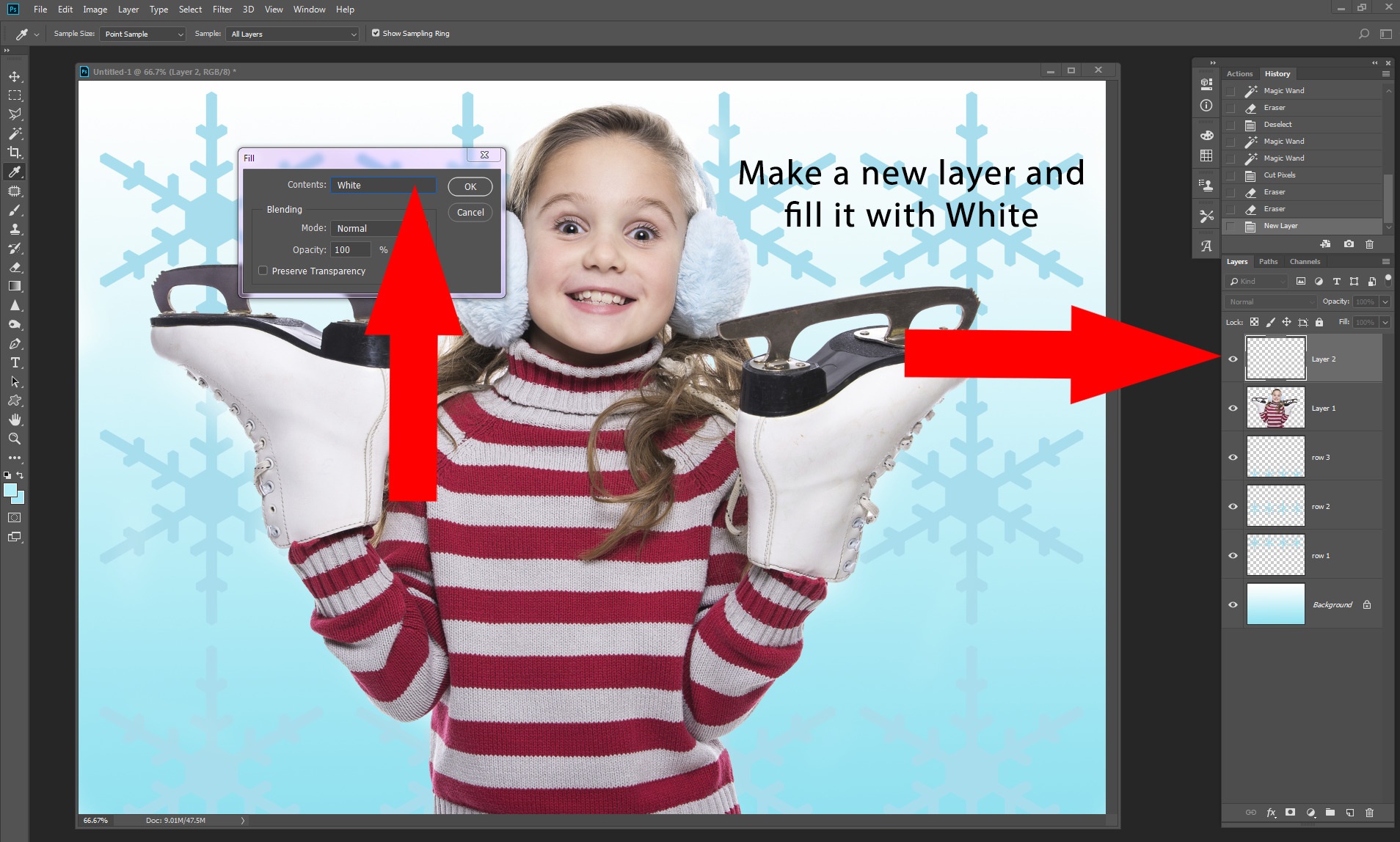 Step 10 (Pre CC Versions)
Next, we need to add some noise to our scene by going to Filter > Noise > Add Noise, push the slide all the way to the right and press OK.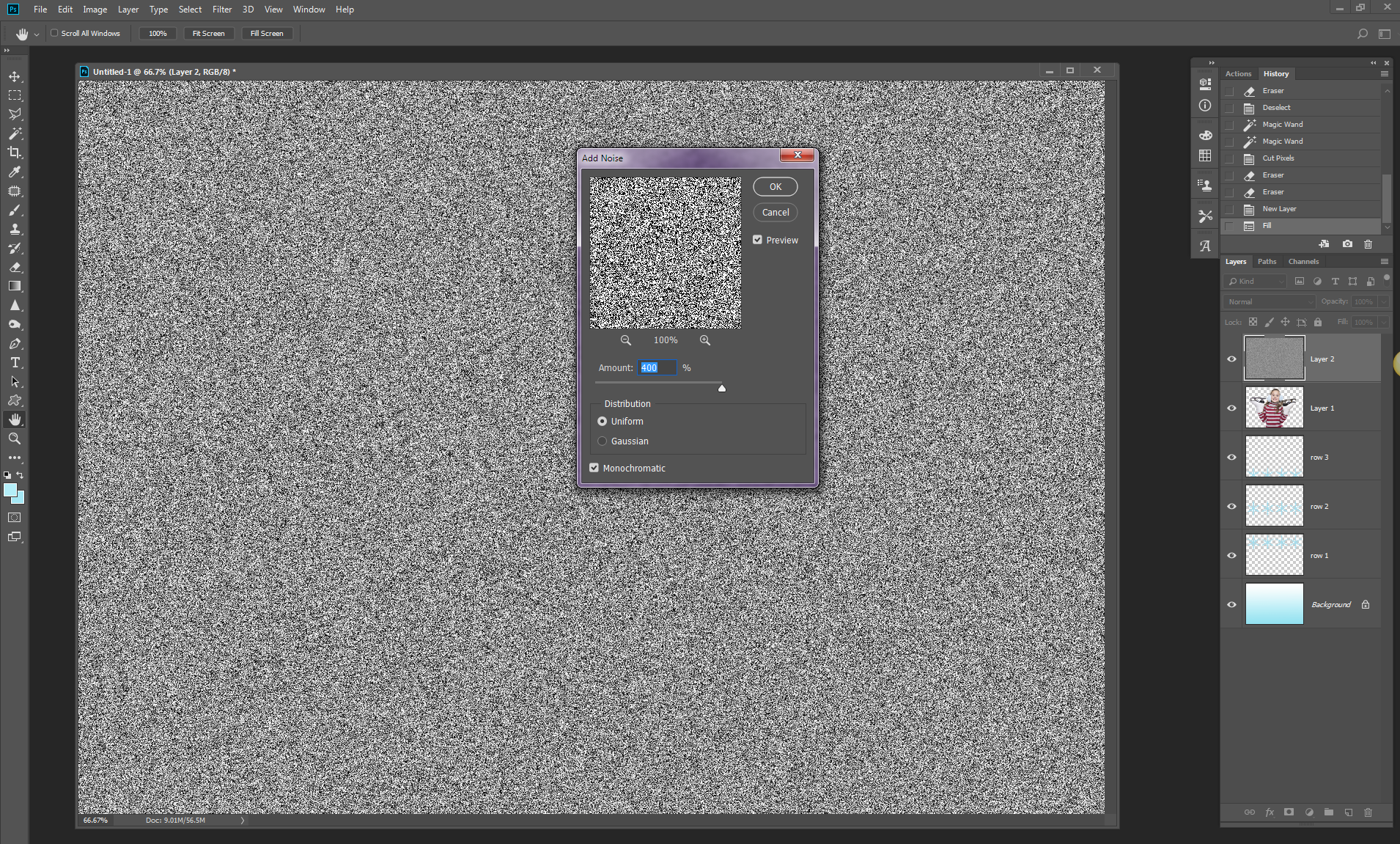 Choose Image > Adjustment > Threshold and tweak the slider so that you have lots of specks of black on your screen. To make it more like winter snow press CTRL+I or CMD+I and it will invert the layer so the black dots become white 'snow' dots!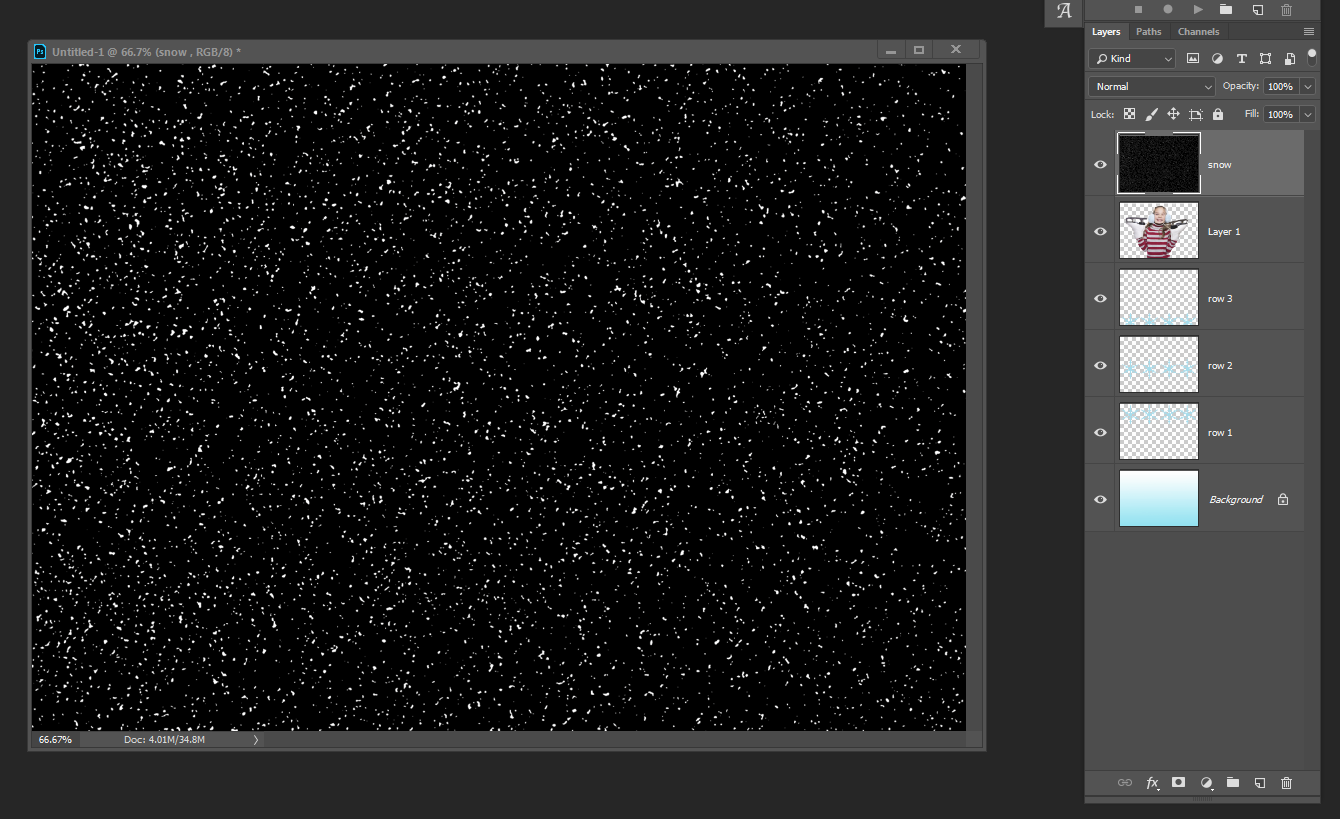 Next, to add some realistic motion to your snow, with your snow layer selected, go to Filter > Blur > Motion Blur and choose a downward angle to make it look like your snow is falling. Now get rid of the black background to reveal your picture underneath by changing the blending mode to Screen.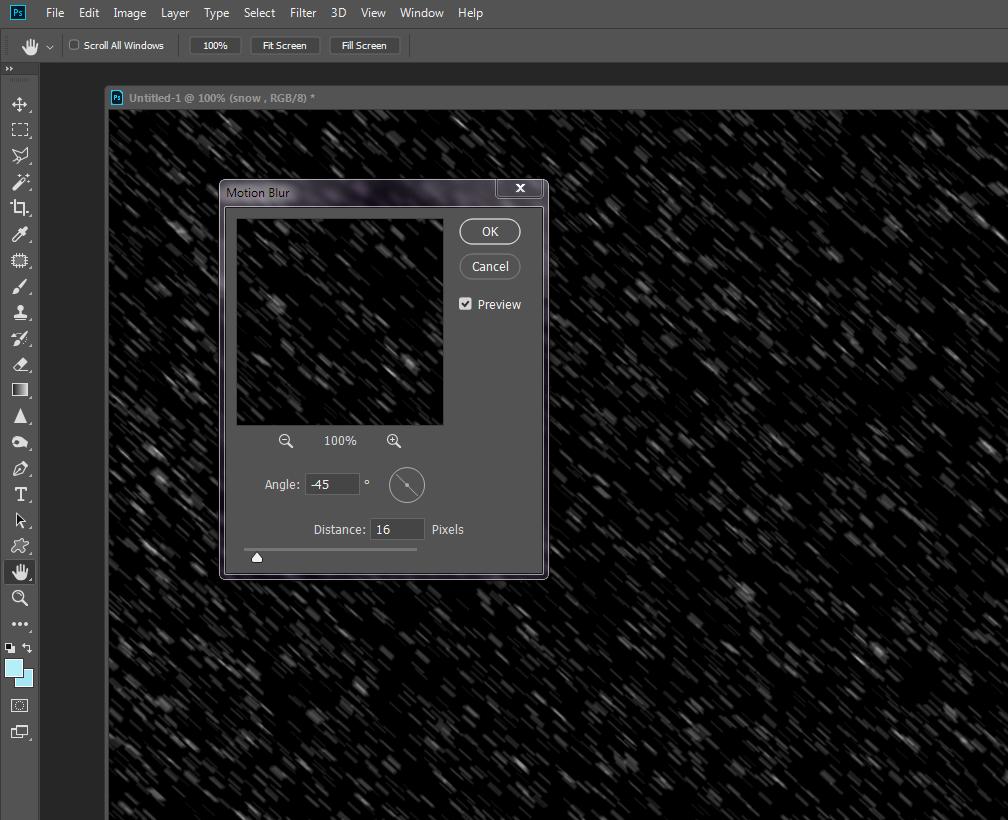 And there you have it! Winter – indoors! You can choose to make more layers of the snow and make them bigger without any blur, so it adds more depth to the scene.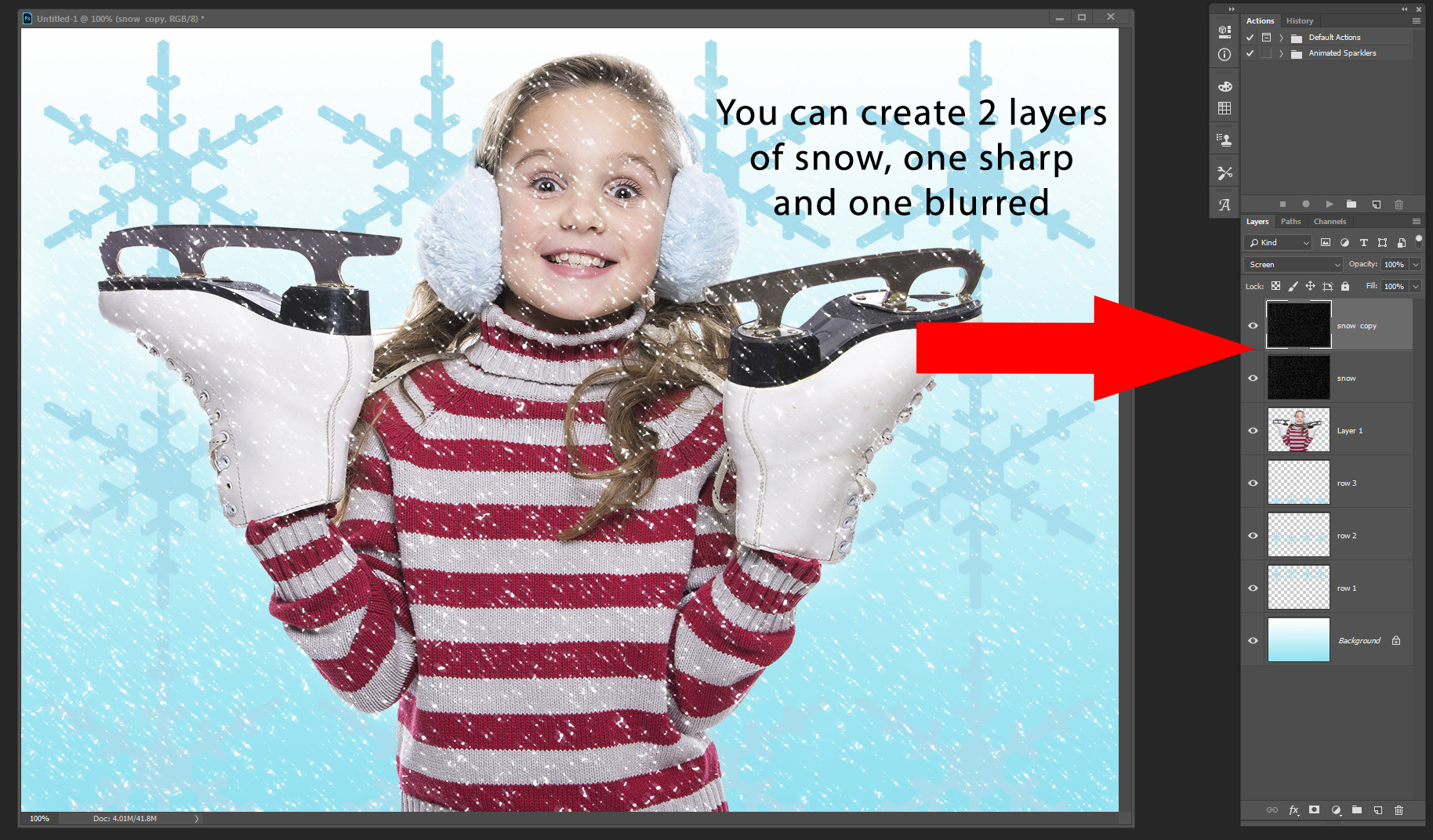 If you're the kind of person who prefers to see our tutorials live then click below to watch our tutorial video creating our winter scene in real time;
See it's easy when you know how! Now you can take these two separate techniques and go crazy with them on your winter pictures.
Whether you're just making a background for a Christmas card or wanting to embellish your 'cold-snaps' with a dusting of snow it will only take you a few minutes to transform a simple picture or a blank background to a truly memorable winter wonderland!
Once you've completed your festive foray into Photoshop editing then don't forget to share your winter portraits with us. Upload your creation to the iPhotoshop Course Student Gallery and on our Facebook, Twitter and Instagram pages. Check out our other blogs too!
If you're not already a member of our fabulous digital artistry community then hop on board now and learn over 42 innovative and creative photo editing tutorials using this special offer.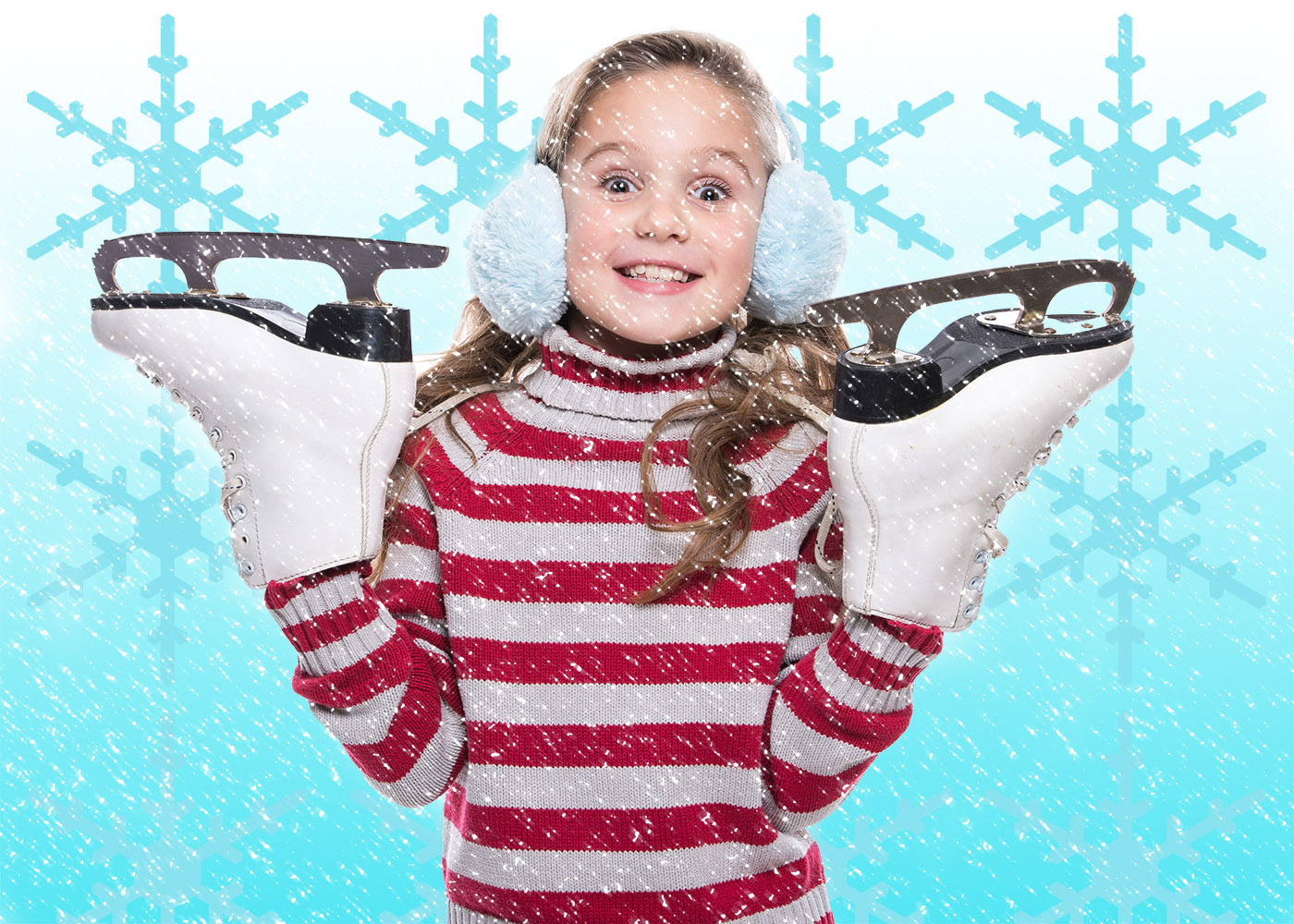 Happy Christmas from everyone on the iPhotoshop Team
Discover the Photoshop Tricks the Pros Don't Want You to Know!
iPhotoshop Course gives you the inside knowledge and skills to become a Photoshop artist. Developed by award-winning experts, this extensive online course shows you in step-by-step detail how to create cutting-edge graphics, surreal scenes, mind-blowing special effects and so much more using any version of Photoshop.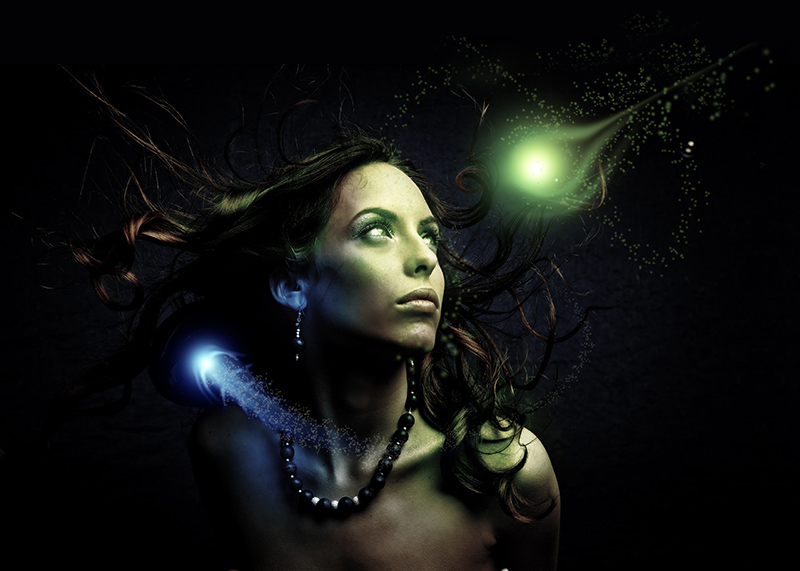 Join our worldwide community