Welcome to the New Generation of Photoshop
Digital Artistry training from iPhotoshop Course
The one and only Photoshop digital artistry training course of its kind!
Welcome to the New Generation of Digital Artistry (presented to you on Creative Cloud) by iPhotoshopCourse.com. We have listened to what our students wanted, and developed an even better learning platform that's even more interactive!

Exciting updates and enhancements with the iPhotoshop relaunch!
Over the past 12 months, iPhotoshop has been busy working hard behind the scenes to ensure they provide you with the best ever Digital Artistry and Photoshop learning experience – we are very pleased to announce that the new rebranded site has now re-launched!
New for 2018:
Free interactive Private Gallery with unlimited uploads
To celebrate the re-launch, we are giving everyone free access to the gallery throughout the whole of 2018, this means you can enter competitions, receive critiques and interact with other digital artists.
What's New?
★ Free interactive private gallery access and uploads for 2018.
★ Optional Competitions, rewards and challenges.
★ Training presented on Photoshop Creative Cloud.
★ Modules delivered using next generation learning technology.
★ Brand new exclusive, interactive and simple methods of learning.
★ Each and every topic broken down into bite-size, comprehensible pieces.
★ Step-by-step demonstrations and visual examples to follow along to.
★ Each module bursting with artistic flair – with fresh and exciting ideas.
★ Technical knowledge and contemporary creative insight.
★ An immersive and engaging learning experience.
★ Brand new customised and interactive Photoshop demonstrations.
★ New rewards and medal system to recognise your achievements.
★ Keep track of your progress throughout the course.
★ Connect with experienced digital artists worldwide 24/7.
★ Fully cross-platform compatible: learn from your mobile or tablet device.
★ Simplified and improved modern interface with a contemporary sleek design.
★ New methods of manipulation that are solely exclusive to Photoshop.
★ Additional intuitive and engaging tools and features.
★ Featuring new algorithms, to assist and improve functionality.
★ Streamlined and fine-tuned for faster workflow.
★ Enhance and expand your learning and progression.
If you haven't already seen and experienced the exciting new features, then log back in now and experience the next Generation of Photoshop Training, brought to you only by iPhotoshopCourse.com
Engaging interactive content
Using the next generation of learning technology, iPhotoshop has been rebuilt from the ground up by the developers at Digital Sea Ltd, making your learning experience more engaging, more intuitive, more fun! Coated with a new, fresh design, and avant-garde ideas and techniques – best of all, this all comes at no additional cost to you and is all included in your lifetime access.

Photoshop Artistry Training
The iPhotoshopCourse is the result of many years' hard work, dedication and experience, all condensed into a comprehensive training course. Delivered through highly polished, easy-to-follow and up-to-date video training modules; every module is bursting with artistic flair and technical insight – it's unlike any other Photoshop course out there!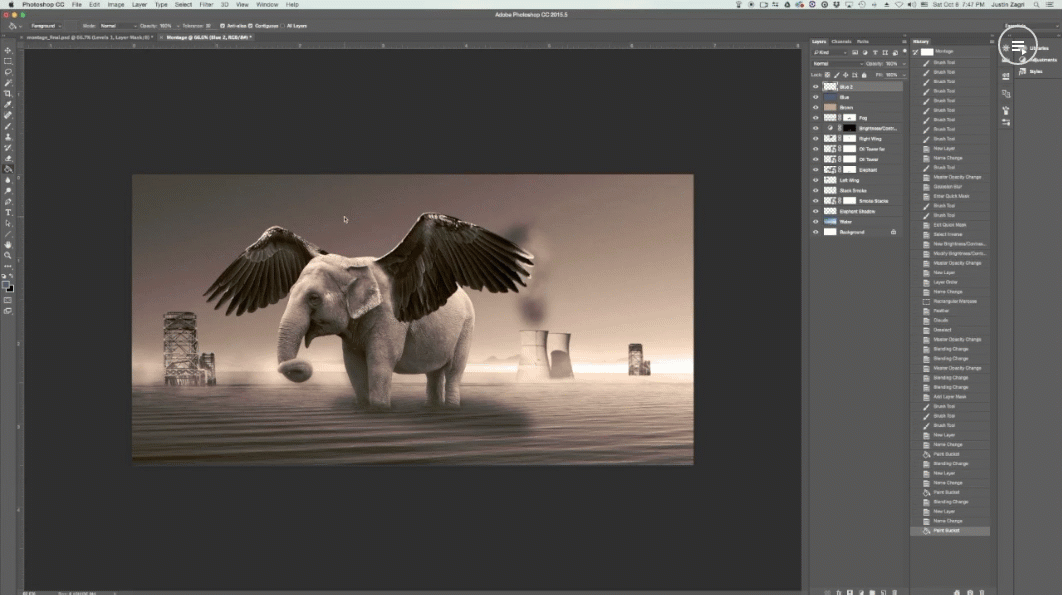 Master the Art of Digital Manipulation
All videos can now be watched in high-definition full screen view, so you will never miss a moment of photo-editing! On top of this, you have the ability to adjust your video speed, slowing down the tutorials to listen closer, or increase the speed as you follow along. This course is entirely customisable to your every need and capability.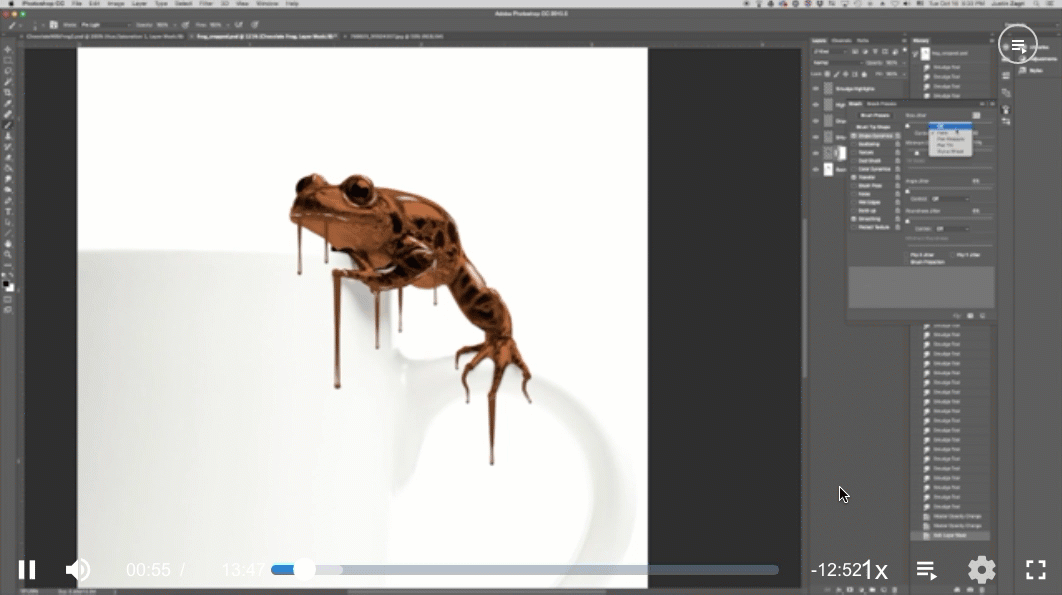 Expert secrets revealed
With bonus features and insider knowhow packed within each module of the course, achieving your perfect image or piece of art work is within reaching distance.
You will find fresh and exciting ideas along with innovating expertise from module 1 right through to module 42. The secrets are all waiting to be discovered, all you need to do is unlock the modules!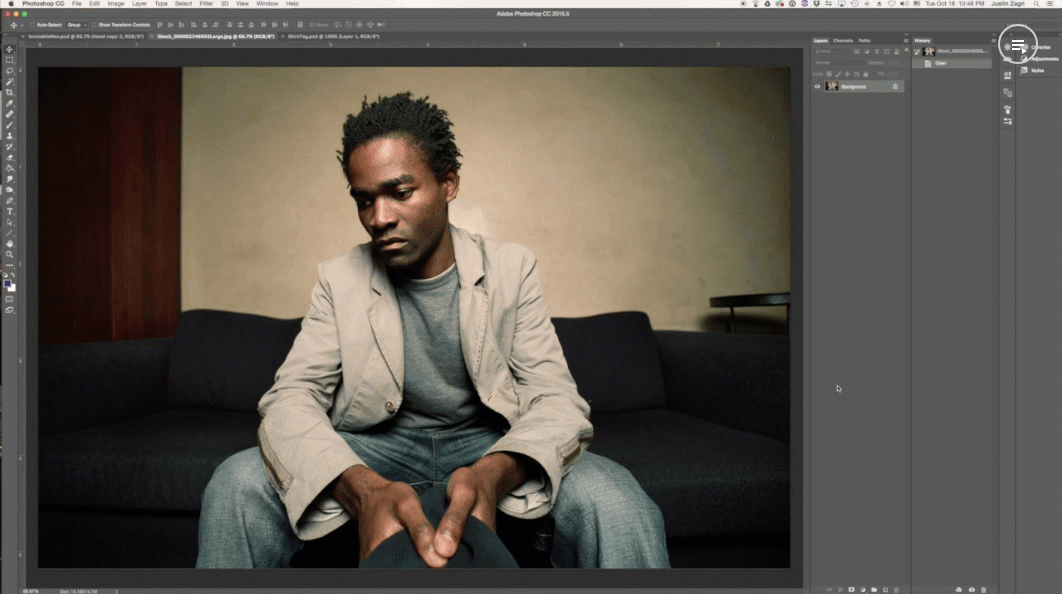 Resume where you left off
The course has been engineered using innovative Auto Resume technology, which means that your learning will be easier, more effective and far more sustaining than typical online courses or textbook training. Each up-to-date video tutorial within the extensive 42 modules will remember exactly where you left off, down to the second; so even when life gets in the way, iPhotoshop will track your progress for you.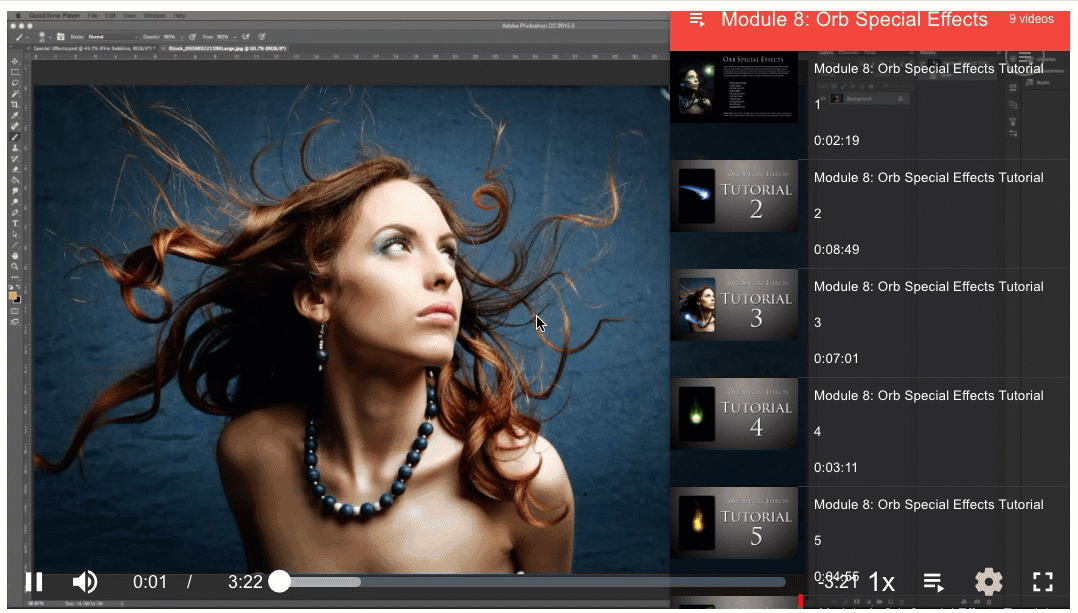 Learn whenever, wherever, anytime, any place
Not only is the new iPhotoshop Course jam packed full of cutting edge content, it has been re-designed to be completely optimized and responsive with all mobile and tablet browsers. Updating the course in this way ensures that you are always receiving the most up-to-date information and version of the software.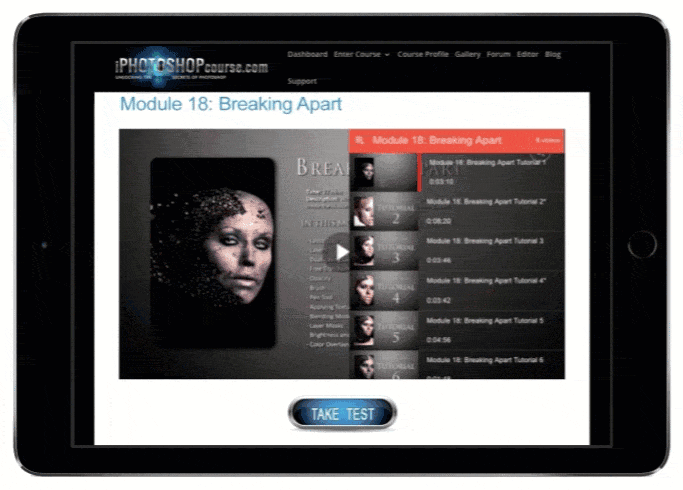 An image can be technically perfect but aesthetically boring
iPhotoshop not only teaches you the full spectrum of technical skills, but it encourages students to look at the world through artistic and creative eyes. We offer endless new suggestions, encouragement and inspiration – this will help take your digital artistry to a new level, ensuring your work is totally unique. By the end of this course, you will be bursting with creative ideas and be ready to develop your own individual style – ensuring your work packs an imaginative punch like nothing that's ever been seen before!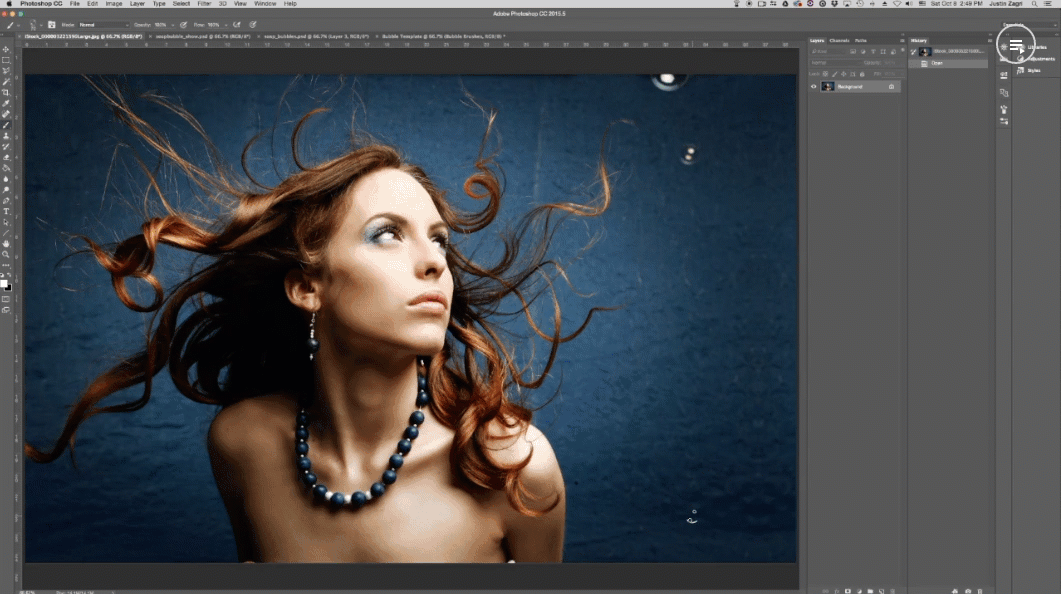 Click up to the next level
iPhotoshop will empower you to step outside of your comfort zone and click your way up to new levels. Delivering the content in a contemporary and exuberant manner ensures an immersive, engaging and effortless learning experience for beginner and advanced digital artists.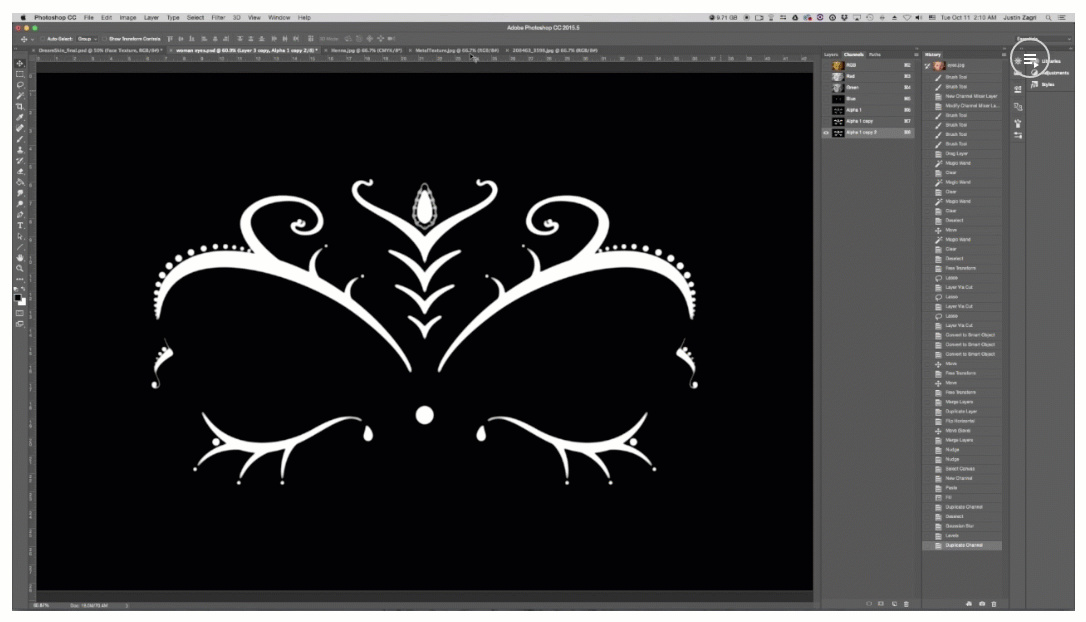 New accessible downloads
We understand that Photoshop can be an overwhelming piece of software, with endless options, buttons and adjustments available. To support your learning, the tutors at iPhotoshop have created a stylised keyboard with all of the handy shortcuts that can make your iPhotoshop editing experience a little easier. Once you have learned a few, you'll never look back!

Keep your portfolio fresh
We provide 42 of the latest iPhotoshop editing modules, follow-along downloads, ongoing tutor support, a ticket to our thriving community – and, just in case all that wasn't enough…

We've now introduced unlimited access to our interactive gallery for 2018 and begun Monthly Challenges as well! This means you can showcase your favourite work, receive critiques and gain inspiration from other like-minded artists.

Optional monthly challenges
At the start of each month you will be offered a simple, short (optional) challenge that you can do in your spare time. We provide you with an idea, and then it's down to you to take that phrase and come up with your own interpretation of it.
Monthly challenges are designed to support your development; they encourage you to put yourself out there, unleash your imagination and push the boundaries of your digital artistry!
And here's our next challenge for you:
Bonus features unlocked!
The iPhotoshop community is a result of our students working endlessly to make the course a fantastic place to learn, share and discuss techniques. It is for this reason that throughout 2018 we are granting all students (new and old), unlimited access to the iPhotoshopCourse feedback gallery – at no additional cost to yourselves.
So, don't be shy! Upload your images today. Your personalised tutor feedback awaits!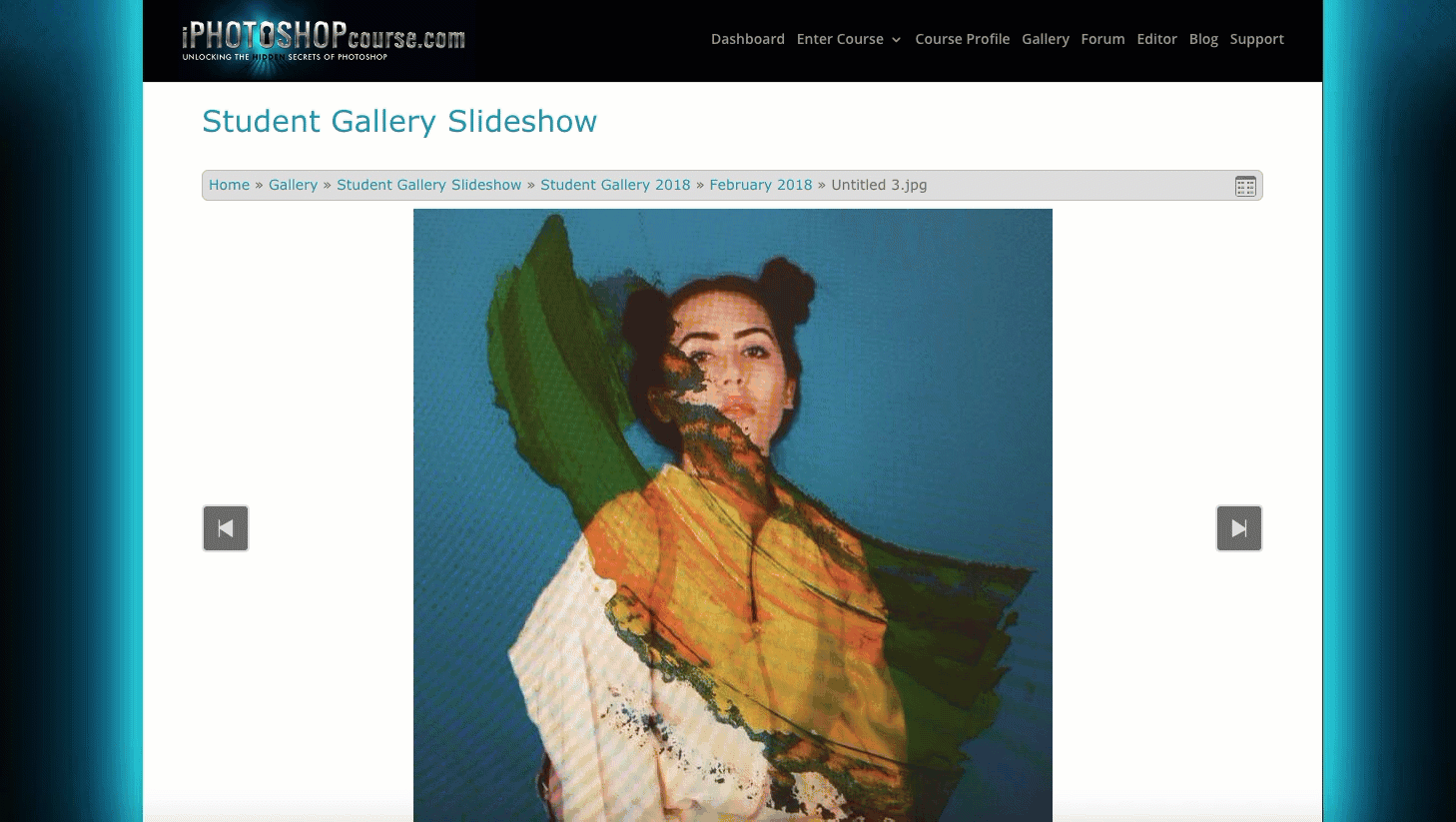 Rewards as you learn
Digital Manipulation is certainly not an easy skill, and it definitely isn't one that can be achieved overnight. As part of our commitment to enhancing student's progression,
we are in the process of developing the perfect rewards system to recognise your dedication and devotion, and to help celebrate your achievements.
Not only will you be able to keep track of your achievements, but you'll discover rewards waiting to be unlocked. Keep your eyes peeled for more bonus features coming soon!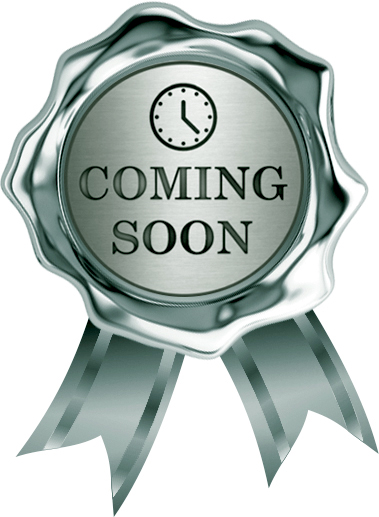 So, what are you waiting for?
If you haven't already seen and experienced the exciting new design features within each module, log back into your course today!
Having trouble logging in, or forgotten your account details? Contact: [email protected]
Discover the Photoshop Tricks the Pros Don't Want You to Know!
iPhotoshop Course gives you the inside knowledge and skills to become a Photoshop artist. Developed by award-winning experts, this extensive online course shows you in step-by-step detail how to create cutting-edge graphics, surreal scenes, mind-blowing special effects and so much more using any version of Photoshop.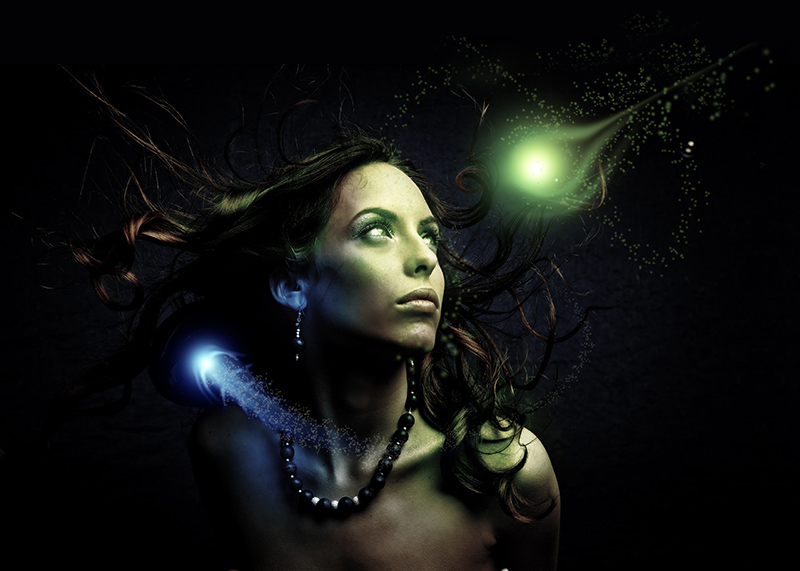 Join our worldwide community